Care and repair this summer with the August Member Sample
Ideal for every season, the Rosehip and Lemongrass Repair Balm uses the power of a Natural Repair Complex for dry skin needing relief from element exposure. Use as a spot-treatment or as an ultra-rich cream on face or body to repair and reduce redness caused by dry skin.
Nourishing dry skin is our goal this August, and the Spa Member sample will help do just that. This rich, moisturizing balm will have your dry feet and hands feeling pampered and replenished. 
Apply a small amount to affected areas as often as required. May be applied to protect dry areas prone to be affected by extreme exposure to the elements. Leave on.
Visible Results include: 
• Repairs, soothes and reduces redness for dry skin 
• Skin is protected from drying environmental stressors
Eminence is constantly innovating our product formulations to deliver the best results.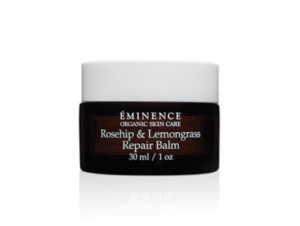 Key Ingredients
Rosehip Oil: Primary constituents are EFAs, Vitamins C and E and beta carotene which improve skin's moisture, tone, texture
Sunflower Oil: Rich in Vitamins A, D and E; protects and soothes dry skin
Natural Repair Complex: Derived from rosehip and rosemary, repairs dry skin faster and reduces redness due to dryness. Protects from the drying effects of environmental stress
Edelweiss Extract: Helps skin preserve natural balance
Prickly Pear Stem Extract: A cactus rich in flavones, vitamins, antioxidants and minerals; excellent for soothing and hydrating dry skin while retaining firmness
Lemongrass: A natural astringent that minimizes pores
We Believe in:        We say NO to:
         
 Organic                
 Parabens            

 Natural                 
 Phthalates

 Biodynamic®        
 Sodium Lauryl Sulfate

 Sustainable           
 Propylene Glycol

Cruelty-Free        
 Animal Testing
Made with Biodynamic® ingredients from Demeter International Certified Biodynamic® farms. 
The Eminence natural, organic and Biodynamic® ingredients may have slight variations from harvest to harvest.
Pro Tip: leave on overnight
Try applying to dry feet or hands and then wearing cotton socks or gloves for an overnight moisturizing treatment. In the morning, wake and remove socks/gloves to reveal silky smooth, nourished skin! 
Come pick up your complimentary July Bend Spa Member gift from our Welcome Desk. Enjoy!
Dial (541) 241-8454 to book your next treatment or book online. Consider other gems, home goods, and organic self-care products when shopping our Welcome Boutique on your way in or out at our new location of 1835 NW Pence Lane, Suite 120, off NW Shevlin Park Road on Bend's westside neighborhood, at the bottom of College Way. Read Anjou Spa Reviews here, and learn more about our Anjou Bend Spa Membership too.