Nano Needling Services – Noninvasive & Aggressive
Central Oregon's climate can really exacerbate some of the skin concerns and conditions you already have. Dry with almost no humidity, your skin's lack of moisture and exposure to sun at high elevations can amplify appearances of wrinkles, hyperpigmentation and dull, dry skin. Masks also can carry bacteria and create acne zones making your skin one hot mess!
Anjou is known for our excellent botanical-based, holistic facials providing a strong foundation for on-going maintenance, prevention and solving temporary conditions. But what do you do to restore your skin? We're bringing on a high-grade Nano needling pen and incorporating it into two new services off our menu: CBD Gelplane and Nano Light. We highly recommend these services to combat the issues above and bring your skin back to an acceptable baseline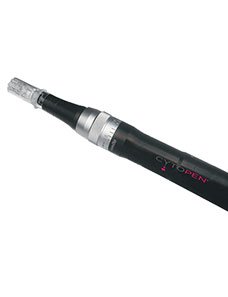 Why Nano Needling?
Like micro needling, nano needling penetrates the dermis surface to create micro injuries to trick your skin into producing collagen. The result is direct delivery of serums and a natural response from your skin providing more volume and elasticity, minimizing fine lines, clearing existing breakouts and repairing barrier function. Nano needling goes .25mm into your stratum corneum with no downtime while micro needling can go as deep as 2mm (recovery time can be 12-48 hours). Micro needling is a great option for those with deeper acne scars, wrinkles, stretch marks and other concerns that need more aggressive treatment.
CBD Gelplane
This treatment instantly brings your skin back to life. Sloughing off dead skin cells and removing peach fuzz removes cellular buildup and clears pores. This is an excellent exfoliation technique. With fresh skin cells exposed, nano needling then penetrates hyaluronic acid and anti-inflammatory CBD serum into your dermis boosting volume, minimizing lines and other imperfections. Highly recommended to feel like a new person!
Nano Light
The key difference between this and the CBD Gelplane is that it focuses on skin concerns using LED light rather than exfoliation of dermaplaning. Your esthetician selects blue, red or green light using our Celluma Pro LED panel and can address acne, rosacea, hyperpigmentation, reduce inflammation and redness. Nap peacefully in a relaxing setting while CBD serum and LED works its magic.