TRANSFORMING YOUR SKIN CONCERNS TO SKIN SUCCESS
Environmental aggressions can compromise your skin barrier: pollution, allergens, and UV rays can enter the skin, attack, and irritate. Your skin barrier is like a wall that protects you and easily reflects when it is compromised by your lifestyle and where you live. To continue with this metaphor, think of your skin's walls as a wall of bricks: the mortar is intercellular lipids (fatty acids) and the bricks are the corneocytes (dead protein skin cells). When the skin barrier becomes unstable, the structure is weakened resulting in a reduced skin barrier.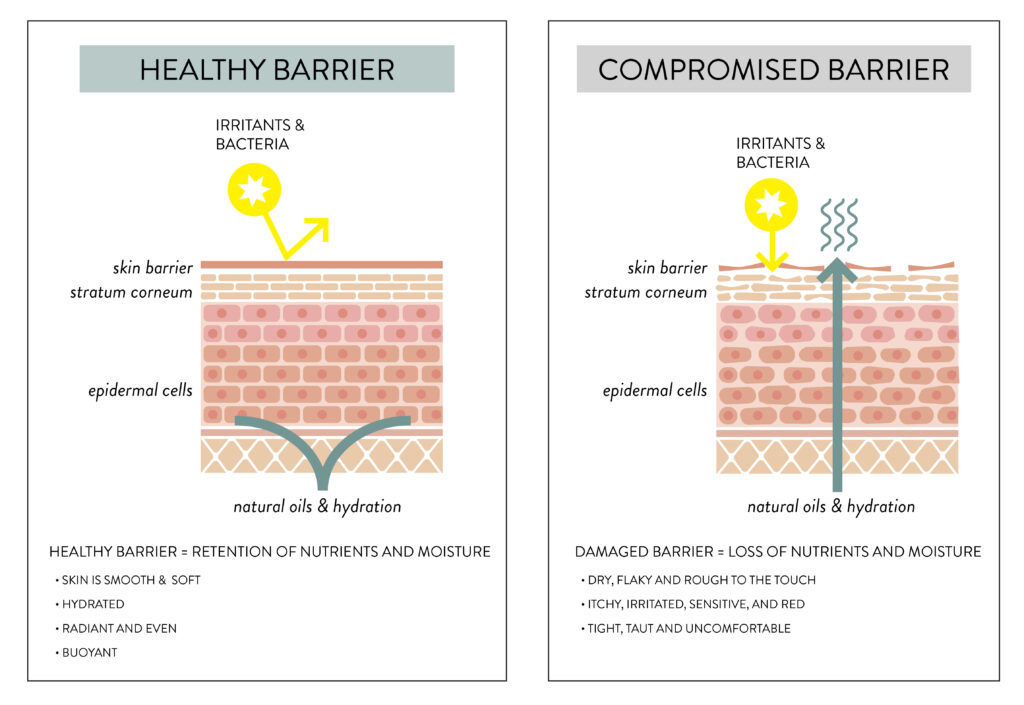 Compromised skin barrier signs:
Dry, flaky and rough to the touch
Itchy, irritated, sensitive, and red
Tight, taut and uncomfortable
Causes of a compromised skin barrier:
A dry environment
Hot or cold weather
Genetics / Aging
Sun exposure – UV
Allergens, irritants and pollutants
Smoking
Hot baths or showers
Harsh soaps or detergents
Poor skincare
Cuts or injuries
Eating unhealthy foods
Over-washing or exfoliating
Steroids
Stress
Lack of sleep
If your skin barrier is compromised, it will allow chemicals to enter your body, and that's not good! To top it off, the world is dealing with an ongoing pandemic. Sickness and reoccurring sickness seems to be something we have to live with now.
That's why Anjou went searching for something stronger, something that will bring people's suffering skin back to life!
ULTRACEUTICALS
The people of Australia know a harsh, dry, sun-driven climate can harm your skin barrier; that's why Dr. Heber created this line.  The steps taken to repair a compromised barrier included:
Balance the pH of the skin
Treat primary skin concerns with a progressive (not aggressive) approach
Ensure the skin has the proper levels of water (hydration) and oil (moisture)
Protect the skin from environmental stress, fluorescent lighting, and UV rays
Enhance results with professional services to rebuild protein, natural lips, ceramide production and humectants
Our goal is to help you get back to loving your skin! Whatever your concern, Central Oregon exacerbates it with our harsh climate. Kick off an RVR90 (Real Visible Results/90 days) Challenge by visiting Anjou today. Click on "Request Appointment" and book your Ultra Advanced Skincare facial today! You will turn around your skin in no time.