Rosehip and Lemongrass Repair Balm
Are your feet and hands feeling the heat this summer? Repair your skin with this Member Gift for August: Rosehip and Lemongrass Repair Balm from Eminence. Suitable for any season, this revolutionary super balm uses the power of a Natural Repair Complex for dry skin needing relief from element exposure. Use as a spot treatment or as an ultra-rich cream on face or body to repair and reduce redness caused by dry skin. Summer heat + water fun = dehydrated skin, so stock up on this balm for relief!
You'll feel these amazing results with Eminence Rosehip and Lemongrass Repair Balm:
Repairs, soothes and reduces redness from dry skin
Skin is protected from drying environmental stressors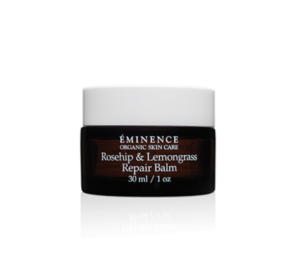 Rosehip and Lemongrass Repair Balm: How to Use and Key Ingredients
Apply a small amount to affected areas as often as required. May be applied to protect dry areas prone to be affected by extreme exposure to the elements. Leave on.
Key Ingredients:

Rosehip Oil: Primary constituents are EFAs, Vitamins C and E and beta carotene which improve skin's moisture, tone, texture
Sunflower Oil: Rich in Vitamins A, D and E; protects and soothes dry skin
Natural Repair Complex: Derived from rosehip and rosemary, repairs dry skin faster and reduces redness due to dryness. Protects from the drying effects of environmental stress
Edelweiss Extract: Helps skin preserve natural balance
Prickly Pear Stem Extract: A cactus rich in flavones, vitamins, antioxidants and minerals; excellent for soothing and hydrating dry skin while retaining firmness
Lemongrass: A natural astringent that minimizes pores
We Believe in:        We say NO to:

 Organic                
 Parabens

 Natural                 
 Phthalates

 Biodynamic®        
 Sodium Lauryl Sulfate

 Sustainable           
 Propylene Glycol

Cruelty-Free        
 Animal Testing
Eminence Organics is constantly innovating our product formulations to deliver the best results.
The Eminence natural, organic, and Biodynamic® ingredients may have slight variations from harvest to harvest.
Rosehip and Lemongrass Repair Balm is Soy Free, Nut Free, and Gluten-Free
Members at Anjou Spa get monthly gifts and a 10% discount on products starting in August!
Come pick up your complimentary August 2022 Spa Member gift from our Welcome Desk staff on the FACE STUDIO side. Not yet a member? Members get monthly samples, extra discounts, shopping nights, and treatments each month for a low monthly fee. With your Anjou Spa Membership, you also get a 10% discount on all products starting in August! Read more about our Anjou Spa Membership.
Call us at (541) 241-8454 to schedule your next treatment or request an appointment online. Find home goods, organic self-care products, and other gems we carefully select in our Shop! Sign up for our newsletter and get the inside scoop on skincare and self-care tips, product highlights, and our seasonal special treatments.