STONE CROP MASQUE
In the summer we turn to being outside and soaking up the sun, but there's one thing that our skin needs to soak up more: moisture. The Eminence Stone Crop Masque will replace lost moisture and increase the health of all skin types.
Leaving your skin looking radiant and youthful, it will be your favorite way to replenish your skin after a long day floating the river. Stone Crop is a healing plant used by herbalists for centuries to heal a multitude of skin conditions, and now you can experience its wonderful effects.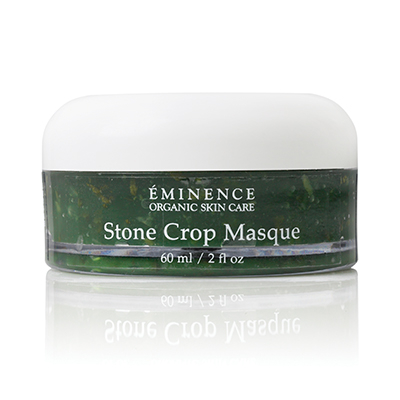 You'll feel these amazing results:
Epidermis appears smoother, calmer and firmer
Complexion looks brighter
Skin is moisturized and appears vitalized
Skin appearance is healthier
Emulsify a small amount of mask in your hand with a few drops of water. Apply evenly over the entire face as well as the neck and décolleté areas if desired. Allow mask to dry 5–10 minutes then gently scrub off in a circular motion with a lukewarm face cloth. Rinse thoroughly with clear water.
 Key Ingredients:
Stone Crop: hydrating and nourishing for uneven skin tones
Lemon: contains high amounts of Vitamin C, antioxidant
Honey: nourishing and moisturizing agent
Biocomplex2™: a booster of antioxidants that restores the look of radiance, vitality and strength; a targeted blend of nutrients ensuring visible, long-lasting results
We Believe in:        We say NO to:

Organic                 Parabens

Natural               Phthalates

Biodynamic®         Sodium Lauryl Sulfate

Sustainable           Propylene Glycol

Cruelty-Free           Animal Testing
Eminence Organics is constantly innovating our product formulations to deliver the best results.
The Eminence natural, organic, and Biodynamic® ingredients may have slight variations from harvest to harvest.
This eminence organic product is Nut Free, and Gluten-Free
Members at Anjou Spa get monthly gifts and a 10% discount on products
Come pick up your complimentary June 2023 Spa Member gift from our Welcome Desk staff on the FACE STUDIO side. Not yet a member? Members get monthly samples, extra discounts, shopping nights, shareable membership, and treatments each month for a competitive monthly fee. With your Anjou Spa Membership, you also get a 10% discount on all products! Read more about our Anjou Spa Membership.
Call us at (541) 241-8454 to schedule your next treatment or request an appointment online. Find home goods, organic self-care products, and other gems we carefully select in our Shop! Sign up for our newsletter and get insider details on skincare and self-care tips, product highlights, and our seasonal special treatments.