Your skin is a living, breathing organ, and just like other organs in your body, your skin regenerates cells and experiences cycles of growth.  Like you would detox your liver, or do a kidney cleanse, you also need to detox your skin. While there are lots of things we can do from the inside out to help our skin cells turn over (drink water, eat plenty of vegetables and fruits), there are some things we can take care to do to help our skin physically from the OUTSIDE IN, and getting regular facials is just one way we manage our skin health. Getting a facial is not a "one and done" event – facials only last about 4-6 weeks. Read more about the "life cycle of a facial in this blog and see how getting regular facials helps your skin long-term!
Your skin goes through these stages after a facial:
1. Immediately after a facial: Skin radiates a healthy glow! 
Facials detox and clarify skin from the exterior, and the effect work their way deeper. The first noticeable benefit to a facial is that your skin will feel smoother, and have a fresh healthy glow! 
2. 28-48 Days: Cells regenerate and the long-term benefits of the facial kick in.
Regular facials boost collagen production and promote cell regeneration. To capitalize on this effect, it is best to schedule regular facials to see youthful-looking skin in the long term. It's also a chance to have any skin problems addressed, such as acne, breakouts, or redness. Facials promote healing through cleansing.
3. 48-72 Hours: Skin is hydrated. Circulation has been boosted. 
Facials promote blood circulation in the face, carrying oxygen to the skin and taking away impurities to be flushed out. Your skin will feel hydrated for the next few days after you get a facial and you'll notice an improvement in overall skin texture and appearance. It also helps keep those pesky under-eye bags and dark circles at bay, since facials help with lymphatic drainage and keeping skin toned.
4. 4-6 Weeks: Time to schedule the next appointment + peel to remove dead skin cells and rid the skin of impurities.
Dead skin, makeup, sun damage, and harsh weather conditions can do a number on your skin. You want to keep this cycle in mind and schedule your facial every 4-6 weeks! Use a facial treatment to be your skincare "reset button" and as a trigger to keep up other healthy skin habits like drinking enough water and getting the rest you need.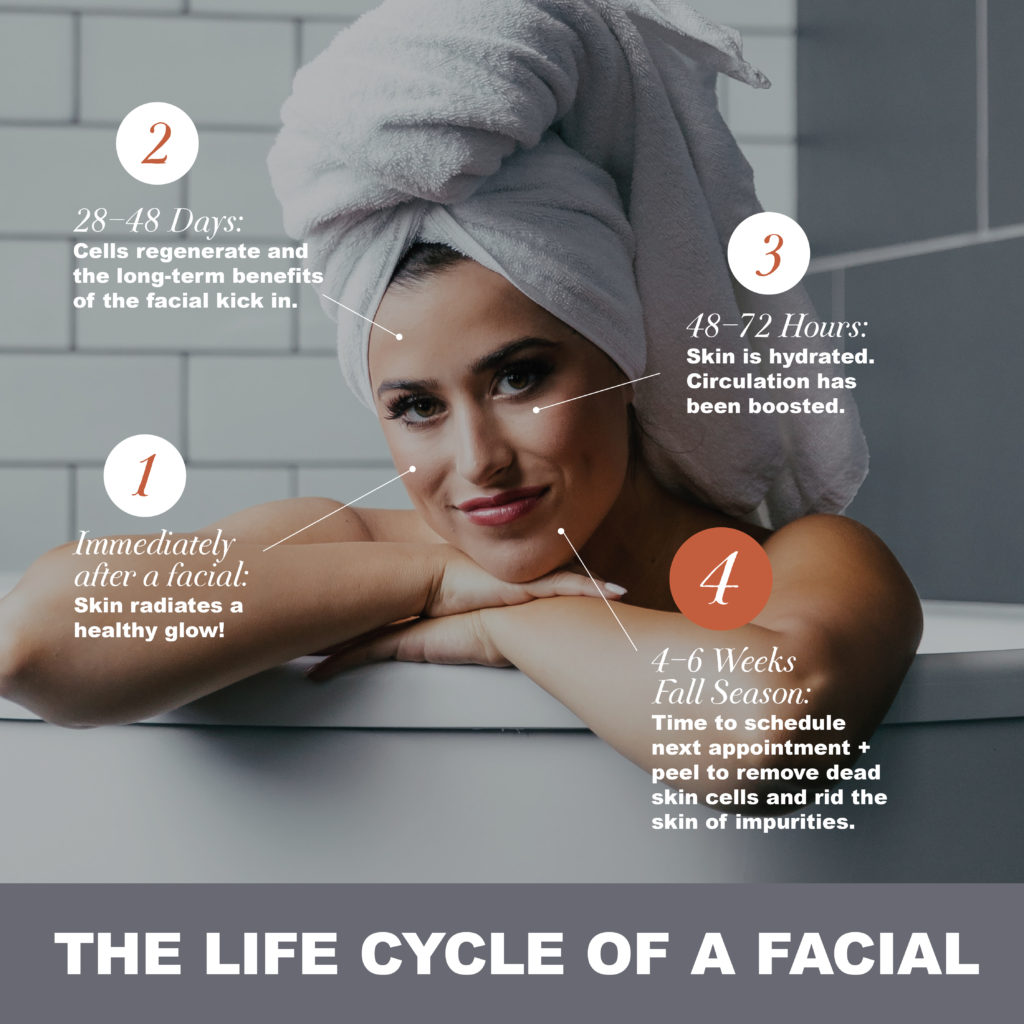 Members of Anjou Spa have the benefit of getting a monthly member massage or facial, so don't forget to use them! Not yet a member? Read more about membership here. 
Need a reminder to schedule in some self-care? Sign up for our emails! We publish self-care content, send you news about seasonal specials and deals, and it can be your reminder to schedule your next treatment with us! 
Call us at (541) 241-8454 to schedule your next treatment or book online. Find home goods, organic self-care products, and other gems we carefully select in our Shop! Read Anjou Spa Reviews here.