March Member Gift: Mangosteen Body Lotion
Take a blissful approach to full body hydration with this heavenly Mangosteen Body Lotion. Formulated with a unique Lactic Acid Complex, this lightweight formula gently resurfaces to reveal bright, radiant skin. Absorbs quickly for a soft, satin finish. Perfect for Spring, just in time to slough off the winter doldrums and reveal new, revitalized skin! 
This body lotion is part of the newest release at Eminence, the mangosteen collection. Mangosteen has traditionally been used for a number of conditions, including eczema. Try all the products in this new line, including a Mangosteen Gel Moisturizer, Mangosteen Revitalizing Mist, Mangosteen Replenishing Hand Cream, and the full body lotion that is this month's sample.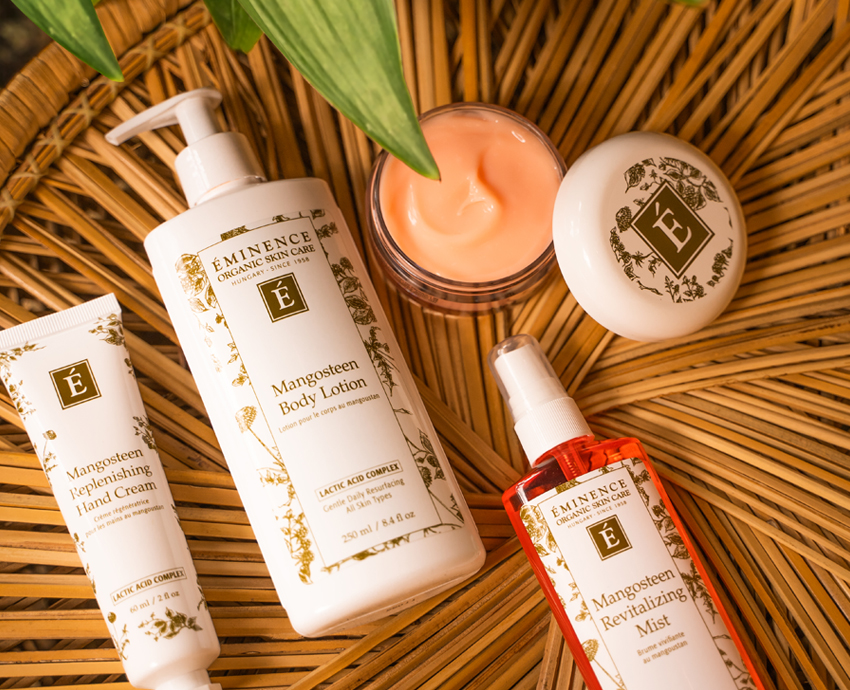 How to use the Mangosteen Body Lotion:
Apply a small amount to cleansed skin. Massage in. Leave on. Do not use on broken or abraded skin.

Visible Results include: 
Skin is left hydrated

Skin is lightly resurfaced to reveal a brighter, more even skin tone
Absorbs quickly to a soft satin finish
Key Ingredients:
Mangosteen: An antioxidant-rich super fruit that helps the appearance of skin and minimizes the look of environmental stress, all while promoting natural radiance
Lactic Acid Complex (Lactic Acid, Ribose, and Red Clover Flower Extract): A proprietary blend of actives; gently resurfaces skin and refines pores for a more luminous, even, and youthful looking complexion
Lactic Acid: Gentle alpha-hydroxy-acid (AHA) exfoliant; removes build-up and improves skin hydration for a brighter, smoother complexion
Red Clover Flower Extract: Refines and improves skin tone to minimize pore size
Ribose (from Corn Seeds): promotes the appearance of smoother and revitalized skin
We Believe in:        We say NO to:

 Organic                
 Parabens

 Natural                 
 Phthalates

 Biodynamic®        
 Sodium Lauryl Sulfate

 Sustainable           
 Propylene Glycol

Cruelty-Free        
 Animal Testing
Eminence Organics is constantly innovating our product formulations to deliver the best results. 
The Eminence natural, organic and Biodynamic® ingredients may have slight variations from harvest to harvest.
Members at Anjou Spa get monthly gifts and a 5% discount on products!
Come pick up your complimentary March Bend Spa Member gift from our Welcome Desk. Not yet a member? Members get monthly samples, extra discounts and shopping nights, and treatments each month for a low monthly fee. With your Anjou Spa Membership, you also get a 5% discount on all products! Read more about our Anjou Bend Spa Membership and join us as a member in 2020! 
Call us at (541) 241-8454 to schedule your next treatment or book online. Find home goods, organic self-care products, and other gems we carefully select in our Shop! Sign up for our newsletter and get the inside scoop on skin care and self care tips, product hightlights and our seasonal special treatments.