August Member Gift: Strawberry Rhubarb Dermofoliant
Have you tried a powder exfoliant yet?  Used for centuries to brighten, smooth and hydrate skin, these ultra-fine powders gently remove impurities and exfoliate skin for a glowing complexion. All you have to do is add a little water! Our August Spa Member sample is the Strawberry Rhubarb Dermofoliant, one of the powder exfoliants that Eminence offers. This product helps you achieve a bright and radiant looking complexion with rice powder, which absorbs oil, while lactic and salicylic acids remove dead skin cells. The strawberries and rhubarb infuse the skin with antioxidants.
Here's why we love powder exfoliants:
Gentle: Powder exfoliants are incredibly gentle. When mixed with water, these finely-milled powders transform into a physical exfoliant paste that removes impurities and smooths skin without scratching the skin's surface. No extra pressure is needed – the granules do the work!
Customizable: The power is in your hands! Depending on the amount of water you add, you can control the strength of the scrub. This allows you to make changes based on the season, the day or your skin type. Less water will get you more texture, more water will give you a gentler, softer scrub.
Liquid-Free: Because bacteria and mold generally have a hard time growing in dry environments, these kinds of exfoliators often contain fewer preservatives and have a longer shelf life than their liquid counterparts.

How to use the Strawberry Rhubarb Dermafoliant:
Dispense a dime-sized amount of dry powder into the palm of your hand
Add a small amount of water (start with a 1/2 teaspoon and adjust from there)
Rub your hands together to create a creamy paste or lather
Apply to your face using circular motions, careful to avoid the delicate eye area
Rinse thoroughly with water and pat skin dry
Visible Results include: 
Skin is perfectly cleansed and gently exfoliated
Your skin appears more plumped and refined
Polished and smoothed skin
Softened skin
Key Ingredients:
Strawberry: cleanser and astringent; contains Salicylic acid that gently exfoliates and removes impurities to brighten skin's appearance and shrink the appearance of pores
Rhubarb: a good source of ascorbic acid and vitamins to fight the look of wrinkles
Lactic Acid: sloughs off dead skin cells to improve texture of skin
Rice: gentle exfoliant; buffs and smoothes skin texture
Chickpea Flour: tightens the look of pores; absorbs excess oil and helps to buff and smooth skin's appearance
Heilmoor Clay: contains high amounts of organic compounds and mineral trace elements to deep clean and soften the skin
Oat Flour: deeply cleanses and smooths
BioComplex: a booster of antioxidants, Coenzyme Q10, and Alpha Lipoic Acid to reduce the appearance of wrinkles and improve the appearance of skin
We Believe in:        We say NO to:

 Organic                
 Parabens

 Natural                 
 Phthalates

 Biodynamic®        
 Sodium Lauryl Sulfate

 Sustainable           
 Propylene Glycol

Cruelty-Free        
 Animal Testing
Eminence Organics is constantly innovating our product formulations to deliver the best results.
The Eminence natural, organic, and Biodynamic® ingredients may have slight variations from harvest to harvest.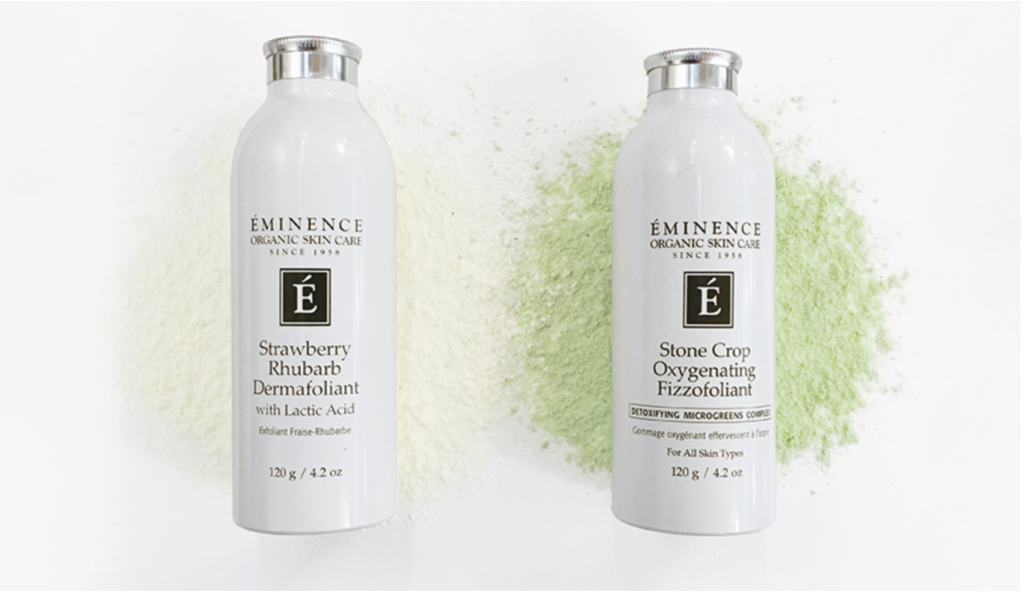 Also available in our Shop is Eminence Stone Crop Fizzofoliant. Add a powder exfoliant to your routine and see the difference!
Members at Anjou Spa get monthly gifts and a 5% discount on products!
Come pick up your complimentary August Bend Spa Member gift from our Welcome Desk. Not yet a member? Members get monthly samples, extra discounts, and shopping nights, and treatments each month for a low monthly fee. With your Anjou Spa Membership, you also get a 5% discount on all products! Read more about our Anjou Spa Membership.
Call us at (541) 241-8454 to schedule your next treatment or request an appointment online. Find home goods, organic self-care products, and other gems we carefully select in our Shop! Sign up for our newsletter and get the inside scoop on skincare and self-care tips, product highlights, and our seasonal special treatments.