Get skin recovery and rest this January!
Recovery is the name of the game in January – it's a time to recover from extra holiday activities (the shopping, the wrapping, the lists!) and extra imbibing, and recover your skin from dry winter weather! All of these merry ways are a little less merry for your skin. We are bringing back the Facial Recovery Oil from Eminence Organics for our January 2022 Member Gift! You may recall we offered this as a Member Gift back in March of 2019, and there's a reason we are revisiting this soothing treatment.
This toning and hydrating Facial Recovery oil was created with precious herbs and nourishing oils to soothe and renew sensitive and aging skin. This is a luxurious facial oil suitable for all skin types and an essential during cold, dry Central Oregon winters.
Facial Recovery Oil – how to use and key ingredients:
Add 2-3 drops to the face and neck area with circular motions working your way from the center to the sides of the face. You can also mix up your own blend with your favorite moisturizer and a few drops of facial oil and then apply to your face. For the ultimate winter skin protection, wait a few minutes for oil to absorb, then apply an SPF.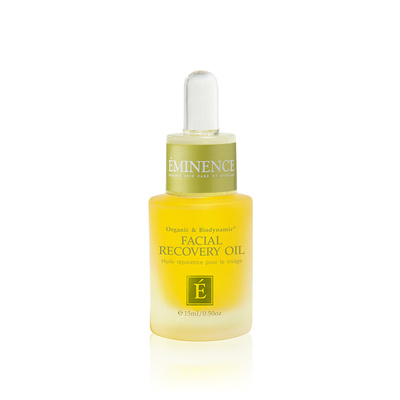 Visible results include:

Skin appears deeply nourished and hydrated
Skin appears smoother and softer
Epidermis appears regenerated, healing is augmented
Complexion appears even




Key Ingredients:

Clary Sage Oil: calming; balances oil production
Olive Oil: calms and soothes the look of skin while deeply hydrating the skin
Sage Leaf Extract: antioxidant; rejuvenates and tones the look of skin
Ylang Ylang: cleanser; calming and balancing

We Believe in:        We say NO to:
 Organic                 Parabens
 Natural                  Phthalates
 Biodynamic®         Sodium Lauryl Sulfate
 Sustainable            Propylene Glycol
Cruelty-Free          Animal Testing

Eminence Organics is constantly innovating our product formulations to deliver the best results.
The Eminence natural, organic, and Biodynamic® ingredients may have slight variations from harvest to harvest.

Facial Recovery Oil is Award-Winning, a Best Seller, and Vegan, Soy Free, Nut Free, and Gluten Free.

Winner of Favorite Face Oil, Sarah Afshar's Best in Beauty, Beauty Examiner, 2015
Winner of Best Face Treatment Oil, Product Awards, Spa Professional Mexico, 2015
Winner in the Anti-Aging Oil Category, Earth Day Beauty Awards, Healing Lifestyles & Spas, 2014
Winner of Best Green Product, LNE's Best, Les Nouvelles Esthétiques & Spa, 2013
Retail Size: 0.5 oz / 15 ml
Try this award-winning facial oil for the ultimate moisture therapy and skin recovery. 
Members at Anjou Spa get monthly gifts and a 5% discount on products!
Come pick up your complimentary January Spa Member gift from our Welcome Desk staff on the FACE STUDIO side. Not yet a member? Members get monthly samples, extra discounts, and shopping nights, and treatments each month for a low monthly fee. With your Anjou Spa Membership, you also get a 5% discount on all products! Read more about our Anjou Spa Membership.
Call us at (541) 241-8454 to schedule your next treatment or request an appointment online. Find home goods, organic self-care products, and other gems we carefully select in our Shop! Sign up for our newsletter and get the inside scoop on skincare and self-care tips, product highlights, and our seasonal special treatments.