Hands need hydration? Spa Members, wrap your fingers around this month's Member Gift: Mangosteen Replenishing Hand Cream!
Treat your hands to mangosteen bliss with this luxurious hand cream. With each application, this silky formula gently resurfaces to reveal soft, youthful-looking skin and provides long-lasting hydration. We love that this hand lotion is both exfoliating (with AHA) and hydrating – perfect for throwing in your bag and using while you're out and about in our High Desert climate.
Mangosteen Hand Cream: How to Use and Key Ingredients
Apply a small amount to cleansed skin and massage in until completely absorbed. You know when you need it… apply whenever you feel dry or daily as part of your body care routine.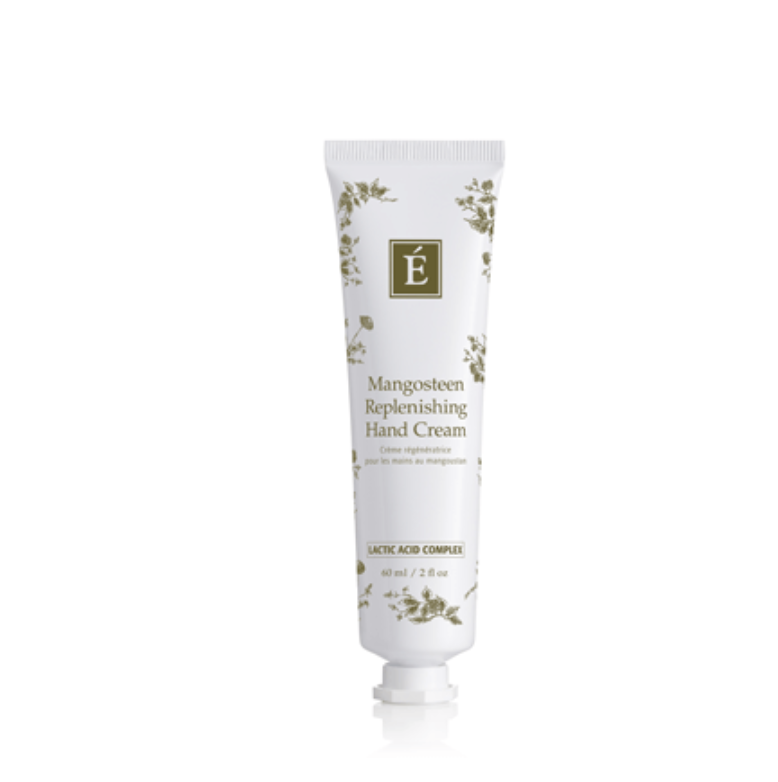 Visible results include:

Evens skin tone and texture for ageless looking hands
Hands maintain hydration between handwashing
Hands feel silky, soft and supple
We Believe in:        We say NO to:

 Organic                
 Parabens

 Natural                 
 Phthalates

 Biodynamic®        
 Sodium Lauryl Sulfate

 Sustainable           
 Propylene Glycol

Cruelty-Free        
 Animal Testing
Eminence Organics is constantly innovating our product formulations to deliver the best results.
The Eminence natural, organic, and Biodynamic® ingredients may have slight variations from harvest to harvest.
Mangosteen Body Lotion is Vegan, Soy Free, Nut Free, and Gluten-Free.
Winner of Best Anti-Aging Hand Cream, Social & Personal Best Beauty Buys Awards, 2021
Retail Size: 2 oz / 60 ml
Members at Anjou Spa get monthly gifts and a 5% discount on products!
Come pick up your complimentary May Spa Member gift from our Welcome Desk staff on the FACE STUDIO side. Not yet a member? Members get monthly samples, extra discounts, shopping nights, and treatments each month for a low monthly fee. With your Anjou Spa Membership, you also get a 5% discount on all products! Read more about our Anjou Spa Membership.
Call us at (541) 241-8454 to schedule your next treatment or request an appointment online. Find home goods, organic self-care products, and other gems we carefully select in our Shop! Sign up for our newsletter and get the inside scoop on skincare and self-care tips, product highlights, and our seasonal special treatments.