Kombucha Microbiom Leave-On Masque
Is your skin trying to tell you something? Is it dull, dry, or reactive? Bring comfort and serenity to the skin's microbiome with a rich slow-absorbing masque. A luxurious step in your routine, this formula features ginger and pre, pro*, and postbiotics to visibly renew the appearance of the skin while supporting your moisture barrier. Ideal for all skin types, this masque helps the skin appear hydrated and healthy. Perfect for dry winter weather in Central Oregon!
*Products do not contain live probiotic cultures.
You'll feel these amazing results with Eminence Kombucha Microbiome Leave-On Masque
Helps the skin defend against drying environmental stressors.
Gently soothes dry, irritated skin, and helps visibly restore a healthy-looking skin barrier.
Skin is vibrant, hydrated, and healthy-looking.
Introduces beneficial prebiotics, probiotics*, and postbiotics to maintain the skin's microbiome.
92% of users noted their skin appears healthier**.
*Products do not contain live probiotic cultures.
**In vivo study results after 28 days.
Kombucha Microbiome Leave-On Masque: How to Use and Key Ingredients
Apply evenly over the entire face as well as the neck and décolleté areas, if desired. Leave on for 5–10 minutes and tissue off any excess. No need to rinse. Use at least three times a week or as often as your skin requires extra care.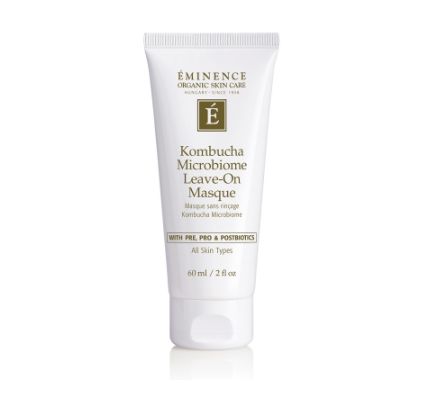 Key Ingredients:

Probiotic (Lactococcus Ferment Lysate — does not contain live cultures): Supports and balances the skin microbiota and replenishes the skin's moisture barrier to repair dry skin and maintain healthy-looking skin.
Kombucha Ferment (Postbiotic): Derived from fermenting black tea, this superfood is rich in postbiotics and nourishes the skin microbiota, enhancing the look of skin smoothness, luminosity and clarity.
Prebiotic (Inulin): A substrate (fuel) that is utilized by host microorganisms, to support a balanced skin microbiome.
Ginger Root: Helps to replenish dry skin to renew natural luminosity. As a botanical, ginger root is known to help the skin appear more invigorated.
We Believe in:        We say NO to:

Organic                 Parabens

Natural               Phthalates

Biodynamic®         Sodium Lauryl Sulfate

Sustainable           Propylene Glycol

Cruelty-Free           Animal Testing
Eminence Organics is constantly innovating our product formulations to deliver the best results.
The Eminence natural, organic, and Biodynamic® ingredients may have slight variations from harvest to harvest.
Kombucha Microbiome Leave-On Masque is Vegan, Nut Free and Gluten-Free
Members at Anjou Spa get monthly gifts and a 10% discount on products
Come pick up your complimentary January 2022 Spa Member gift from our Welcome Desk staff on the FACE STUDIO side. Not yet a member? Members get monthly samples, extra discounts, shopping nights, shareable membership, and treatments each month for a competitive monthly fee. With your Anjou Spa Membership, you also get a 10% discount on all products! Read more about our Anjou Spa Membership.
Call us at (541) 241-8454 to schedule your next treatment or request an appointment online. Find home goods, organic self-care products, and other gems we carefully select in our Shop! Sign up for our newsletter and get insider details on skincare and self-care tips, product highlights, and our seasonal special treatments.