Coconut Milk Cleanser
Is your skin feeling sunburned after all the sun exposure this summer? We are at over 3,000 feet elevation, and the sun gets intense! If your sunburned skin needs some extra care, our July Spa Member Sample is just what you need. Eminence saves your dry, irritated skin with a Coconut Milk Cleanser, designed to moisturize as it cleanses.
This gentle cream cleanser uses rich coconut milk to nurture skin for a dewy, fresh finish. Cruelty-free and formulated without parabens, sodium lauryl sulfates, synthetic dyes, petrochemicals, animal by-products, phthalates, GMOs and triclosan.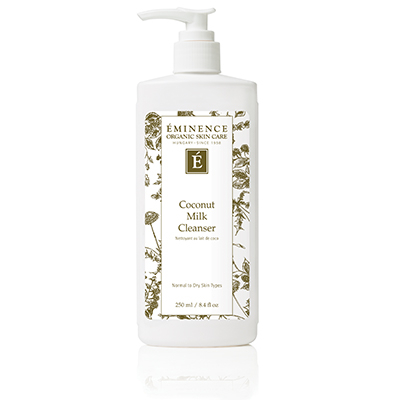 You'll feel these amazing results:
The skin is perfectly cleansed and appears balanced
The skin is left feeling hydrated
The skin looks and feels more youthful
Apply cleanser to the skin, emulsifying with fingertips and diluting with water, if necessary. Remove with a damp face cloth and follow with the appropriate toner for skin type.
Key Ingredients:
Coconut Milk: moisturizes, nourishes and softens the skin
Coconut Oil: antioxidant: moisturizes to protect the skin
Calendula Oil: antioxidant; soothing
Biocomplex2™: a booster of antioxidants that restores the look of radiance, vitality and strength; a targeted blend of nutrients ensuring visible, long-lasting results
We Believe in:        We say NO to:

Organic                 Parabens

Natural               Phthalates

Biodynamic®         Sodium Lauryl Sulfate

Sustainable           Propylene Glycol

Cruelty-Free           Animal Testing
Eminence Organics is constantly innovating our product formulations to deliver the best results.
The Eminence natural, organic, and Biodynamic® ingredients may have slight variations from harvest to harvest.
This eminence organic product is Vegan, Nut Free, and Gluten-Free (Contains coconut milk)
Members at Anjou Spa get monthly gifts and a 10% discount on products
Come pick up your complimentary July 2023 Spa Member gift from our Welcome Desk staff on the FACE STUDIO side. Not yet a member? Members get monthly samples, extra discounts, shopping nights, shareable membership, and treatments each month for a competitive monthly fee. With your Anjou Spa Membership, you also get a 10% discount on all products! Read more about our Anjou Spa Membership.
Call us at (541) 241-8454 to schedule your next treatment or request an appointment online. Find home goods, organic self-care products, and other gems we carefully select in our Shop! Sign up for our newsletter and get insider details on skincare and self-care tips, product highlights, and our seasonal special treatments.