Facial Recovery Oil
As the weather changes, so should our skin care! This award-winning facial oil from Eminence Organics is our Member Gift for September, and it's perfect for soothing sun-kissed summer skin. Rehydrate and tone with this oil created with precious herbs and nourishing oils to soothe and renew sensitive and aging skin. This is a luxurious facial oil suitable for all skin types.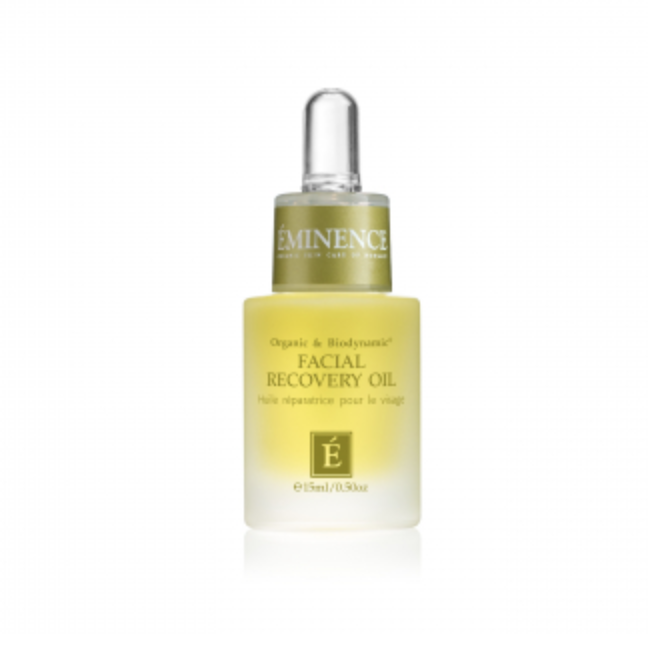 You'll feel these amazing results:
Skin appears deeply nourished and hydrated
Skin appears smoother and softer
Epidermis appears regenerated, healing is augmented
Complexion appears even
Add 2-3 drops to face and neck with circular motions working your way from the center to the sides of the face.
Key Ingredients:
Clary Sage Oil: calming; balances oil production
Olive Oil: calms and soothes the look of skin while deeply hydrating the skin
Sage Leaf Extract: antioxidant; rejuvenates and tones the look of skin
Ylang Ylang: cleanser; calming and balancing
We Believe in:        We say NO to:

Organic                 Parabens

Natural               Phthalates

Biodynamic®         Sodium Lauryl Sulfate

Sustainable           Propylene Glycol

Cruelty-Free           Animal Testing
Eminence Organics is constantly innovating our product formulations to deliver the best results.
The Eminence natural, organic, and Biodynamic® ingredients may have slight variations from harvest to harvest.
This eminence organic product is Vegan, soy free, Nut Free, and Gluten-Free.
Members at Anjou Spa get monthly gifts and a 10% discount on products
Come pick up your complimentary September 2023 Spa Member gift from our Welcome Desk staff on the FACE STUDIO side. Not yet a member? Members get monthly samples, extra discounts, shopping nights, shareable membership, and treatments each month for a competitive monthly fee. With your Anjou Spa Membership, you also get a 10% discount on all products! Read more about our Anjou Spa Membership.
Call us at (541) 241-8454 to schedule your next treatment or request an appointment online. Find home goods, organic self-care products, and other gems we carefully select in our Shop! Sign up for our newsletter and get insider details on skincare and self-care tips, product highlights, and our seasonal special treatments.